Krista the Explorer
Top 6 Must-Have Experiences in Lisbon
Updated: Aug 3, 2022
This post may contain affiliate links, which means I may earn a commission from the discount codes used or when a link/ad is clicked. All purchases made will come at no extra cost to you, and I only include products and services that I have personally used and would recommend.
Lisbon is the perfect European capital to plan a city escape to. If the architecture and culture doesn't blow you away, then the food and weather certainly will. Even if it isn't your first time visiting Lisbon, you'll have no issues whatsoever finding unusual things to do in Lisbon or quirky places to eat that only the locals know about. It's a city filled with never ending activities and historical sites to gaze at, and there are always new eateries and attractions popping up throughout the year.
If you're only spending a couple of days in Lisbon, then there's a lot to try to pack into your itinerary. But there are a few must-have experiences in Lisbon that you simply can't leave the capital without doing. For those of you visiting on a budget, there are many free things to do in Lisbon as well that are equally worth it. Whatever you choose to do while in the Portuguese capital, whether that's walking around the unique neighbourhoods or getting stuck in to some local cuisine, you won't leave disappointed. Here's a look at my top six must-have experiences in Lisbon (and where to eat), especially if it's your first time in the city.
Table of Contents
Top Must-Have Experiences in Lisbon
Unique Places To Eat in Lisbon
Top Must-Have Experiences in Lisbon
Tastes & Traditions Food Tour with Devour Tours
In my opinion, there's no better way to get a feel for a city than to eat your way through it. We joined Devour Tours in Madrid and loved the experience, so we were very excited to find out that they also offered a Lisbon food tour too. The Tastes & Traditions Food Tour takes place from 09:30 - 13:00 and costs €79.00 per person, which includes 10+ tastes and 3 drinks (there's an option to upgrade to extra drinks for an additional €12). This tour combines history with food in a unique way, led by a local tour guide who knows all the secrets of Lisbon.
Our morning started with a stop at a pastry shop that's been open for almost 200 years, we then sampled Iberian ham, tried the best Portuguese pork sandwich (says Anthony Bourdain), and dug in to a few traditional dishes served in a family-run restaurant. The tour continued to the famous pink street where we tried different types of canned fish, and ended with a pastel de nata. Between all of these stops we learned more about the history of Lisbon and the story behind the importance of food in the city, all while seeing some of Lisbon's most iconic historical attractions and landmarks. If you only have time for one activity during your trip, this food tour is definitely a must-have experience in Lisbon that you won't want to miss.
Ride on Tram 28
Tram 28
If you go on one tram in Lisbon, make sure it's Tram 28. This is the most popular tram with tourists, as it passes by many of Lisbon's main attractions, including through neighbourhoods such as Alfama, Baixa, and Estrela. Riding on these historic trams is one of the top must-have experiences in Lisbon, and is something you won't find anywhere else. There are modern trams in the city too, but they aren't suitable for the narrow routes that the yellow trams go on. As you can imagine, this tram in particular gets extremely busy with tourists, so try to jump on it as early as possible, before everyone comes out of their hotels. You should also be prepared for a very bumpy ride on the vintage trams in Lisbon, especially if you're standing up. To save time and money, I would recommend purchasing a 24 hour public transport ticket from a metro station which can be used on the all trams.
Day trip to Belém
Jerónimos Monastery
One of the best day trips from Lisbon you can go on is to Belém. Technically Belém is still within the borders of Lisbon, but it's quite a distance from the city centre, so many people opt to spend a full day there. The UNESCO World Heritage Sites of Jerónimos Monastery and Belém Tower are two of the main attractions in Belém that draw in millions of visitors each year. But sitting between them is the famous Monument to the Discoveries which is just as iconic. Belém is also the birthplace of the famous pastel de nata, so it's worth visiting one of the pastry shops here and trying this traditional Portuguese tart. Hopefully you have time in your schedule to visit Belém, because it's a must-have experience in Lisbon that's worth taking the short tram ride out of the centre to.
Walk around Alfama
Alfama
Alfama is one neighbourhood in Lisbon that you can't miss. It's the oldest district in the city, and is a labyrinth of narrow cobbled streets filled with quirky cafes and artisan shops. What was once a poor area of the city, home to sailors and dock workers, is now as vibrant as ever and is one of the most visited parts of the city. Quite a few of Lisbon's main tourist attractions are located in Alfama, and there are plenty of beautiful spots to get photos as well. Walking around Alfama is one of the best things to do in Lisbon. It's the perfect base to start exploring the city from.
Time Out Market
Time Out Market
There are a lot of hidden gems to eat at in Lisbon, but if you want to have a lot of choices in a small area, then head to the Time Out Market. This large food hall sits inside the Mercado da Ribeira and is home to an incredible selection of food stalls, all providing the best quality Portuguese and global cuisines. There's even a Michelin-starred chef cooking up a storm at one of the stalls. There is a lot to choose from here, but if you only have time to stop by for a quick look as you walk through the city, grab a pastel de nata from Manteigaria on your way out!
Explore Lisbon at sunrise
Praça do Comércio
One of my favourite things to do while I'm travelling, especially in the summertime, is to explore places before the crowds appear. Yes, that means waking up at sunrise, but it's worth it! Lisbon is very crowded during the day, so if you want photos without people in them or just want to enjoy popular tourist attractions in Lisbon in peace, then you need to wake up early. At no other time will you find the city as empty, so it's definitely a must-have experience in Lisbon because then you can enjoy the city for the rest of the day knowing that you have the best photos.
Where To Eat in Lisbon
La Bonne Crepe
La Bonne Crepe is a very cool place to eat in Lisbon, located a short bus ride north of the city centre. The team have reinvented the traditional French crepe with unique and trendy flavours, personally sourcing their ingredients from local and regional producers. What's great about La Bonne Crepe is that they give you the option to create your own crepe or order one of their creations from the menu. They have a variety of sweet and savoury crepes to choose from, including crispy chicken, raclette, and caramelized apple. You really can't go wrong here, and it's the perfect spot for lunch in Lisbon - or even a midday snack!
Saisho Ramen
If you find yourself having a ramen craving, or want to try something a little different than traditional Portuguese dishes, then you need to check out Saisho Ramen. Also located north of the city centre, it's been named by many customers as the best ramen in Lisbon. Each bowl of ramen takes half a day to prepare, as the bone broth is slowly boiled for over 10 hours, and the noodles are all carefully handmade to perfection. If you're not in the mood for ramen, they have equally tasty noodle bowls, with vegetarian options available too. Grab a Totoro Cake if you can, because they sell out very fast!
O Bolo da Marta
After visiting Convento do Carmo, stop by O Bolo da Marta for a cake and a drink. This charming cake shop is located around the corner from Convento do Carmo, and is known for its beautiful handmade cakes that have been in high demand since 2012. You can order a whole cake if you want, but if you're just looking for a quick snack before exploring the rest of the city, you can grab a small slice instead. It's definitely worth stopping at, and you can find the cakes inside the Time Out Market as well if you're in that area.
Samambaia Bar
A great spot to stop for brunch or a smoothie while walking around Alfama is Samambaia Bar. During the daytime this open concept restaurant is a peaceful spot to work, study, or meet friends for a catch up. Later in the evening, Samambaia Bar sometimes hosts concerts and events which are very popular with both locals and tourists. I would recommend having one of their freshly made smoothies and a pastry as a snack, but the reviews of the main food menu here also look very promising.
So far, Lisbon has been one of my favourite European capitals. It's unlike any other that I've been to, and despite there being many tourists all over the city, there are some quiet areas that offer some non-touristy things to do in Lisbon as well. But if it's your first time in the city, or you're returning for a longer stay, you can't leave without trying at least one of these must-have experiences in Lisbon. Don't forget to make the most out of your stay and either join a guided food tour or eat at some of the more unique places in Lisbon.
What's the top experience in Lisbon that you would recommend? We hope to return to Lisbon soon as five days wasn't nearly enough to see all of the city, so I would love to hear your recommendations in the comment section below. Remember to follow my travels on Instagram!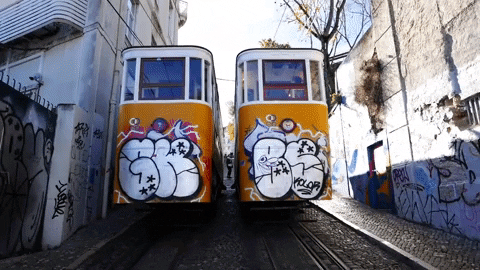 Like this post? Why not pin it for later?