Krista the Explorer
Unusual Things To Do in Lisbon
Updated: Oct 2, 2022
This post may contain affiliate links, which means I may earn a commission from the discount codes used or when a link/ad is clicked. All purchases made will come at no extra cost to you, and I only include products and services that I have personally used and would recommend.
Being the largest city in Portugal means that there are an abundance of things to do in Lisbon, whether this is your first time visiting the capital or not. Lisbon is known for a number of reasons, from its colourful buildings to its incredible seafood, traditional music, and of course its deep rooted history in the world of exploration. Lisbon isn't without its hidden gems, and although there are a lot of incredible attractions in Lisbon for tourists to visit, some of the best points of interest in the city are ones that maybe won't be on your itinerary the first time around.
Lisbon is one of the oldest cities in the world, predating even London and Paris. It was founded around 1200 BC, and its important strategic location along the mouth of the Tagus River has made it a key port of trade since then. Exploring the streets of Alfama, Lisbon's oldest neighbourhood, and riding the vintage yellow trams around the city are must dos in Lisbon, but we managed to squeeze in a few more unique activities during our 5 day trip. Here's a look at some unusual things to do in Lisbon that you really shouldn't miss out on.
Table of Contents
Unusual Things To Do in Lisbon
Unusual Things To Do in Lisbon
Santa Justa Lift
Santa Justa Lift
The Santa Justa Lift, or the Elevador do Carmo, is one of the most unique attractions in Lisbon, and is the quickest way to get between Baixa and Barrio Alto. It was opened in 1902 and was built in a similar style to the Eiffel Tower. The observation deck at the top is today one of the most popular viewpoints in Lisbon, and offers stunning views over the area. A ticket that includes the viewing platform as well as a return ride on the elevator costs around €5, but if you have a daily transport ticket then the elevator is included. In the summer months, expect very long queues, so make sure you plan enough time in your schedule. A ride on the lift is a very unusual thing to do in Lisbon, and is something you won't find in any other city.
Carmo Convento Ruins
Carmo Convento
Once the largest church in Lisbon, Carmo Convento now stands as a reminder of the devastation caused by the 1755 earthquake. What makes this a unique attraction in Lisbon is that the roof has been left completely open, and where the altar once stood is now a small archaeological museum. The church was also the burial site of Christopher Columbus' wife, though there's no tomb here to look at. If you're looking for things to do in Lisbon at night, Lisbon Under the Stars takes place inside the ruins, where you can learn more about the history and culture of Lisbon through a multimedia presentation on the walls. Entry to Carmo Convento costs only €5 and is definitely worth going to if it's your first time in Lisbon.
Casa dos Bicos
Casa dos Bicos
If you're a fan of unusual architecture, then you'll want to visit Casa dos Bicos, also referred to as the "House of Spikes". The exterior of the building showcases diamond shaped stones, and is one of the few buildings that survived the 1755 earthquake. It was once a 16th century palace belonging to the Portuguese viceroy of India, and is thought to be inspired by the palaces in Venice. Today, Casa dos Bicos hosts literary events and is occupied by the Saramago Foundation.
Walk Along a Pink Street
Rua Cor-de-Rosa
One of the most photographed locations in Lisbon is the famous Pink Street. Although it's popular with tourists and those who have passed a TEFL course, visiting it is still a very unusual thing to do in Lisbon. At one time this area of the city was known for its brothels, gambling houses, and high levels of crime. In 2011 though, the street was completely transformed and now boasts a number of eateries and is very well known for its nightlife. Rua Cor-de-Rosa is known worldwide, so you can imagine how many people are here on a daily basis. If you want a photo without the crowds it's going to be tricky. We visited very early in the morning and the street was full of empty bottles and garbage from the night before, so we waited until it was cleaned to get the photos. It's also worth noting that the pink colour isn't as pink and clean as it looks on Instagram!
LX Factory
LX Factory
If you don't mind venturing outside of the city centre, then LX Factory is a great spot to visit for unique shops and restaurants. LX Factory is home to a number of start-up businesses, and is situated within the grounds of a 19th century factory complex. We visited in the evening and were able to explore some of the shops that were still open, as well as dine at a nice vegetarian restaurant under the lights. Visiting the LX Factory is a very cool thing to do in Lisbon, and is still a bit of a hidden gem which is an added bonus.
Cristo Rei Statue
Cristo Rei Statue
A very unusual thing to do in Lisbon, and something that many tourists don't have time to add to their schedule, is a visit to the Cristo Rei Statue on the other side of the Tagus River. From Lisbon's city centre, you can see the statue rising above the hill, but as you can imagine it takes a while to get to. We ended up taking a taxi rather than public transportation to save time. The Cristo Rei Statue is one of the most easily recognizable landmarks in the city, and was built in the 1950s. You'll notice similarities to the Christ the Redeemer statue in Brazil, which was the original inspiration for it. For €6 you can access the viewing platform at the top of the statue, but if you're visiting Lisbon on a budget, the views are pretty much the same from the viewing platform at the base of the statue.
An Alternative View of Lisbon
Ponte 25 de Abril
While you're visiting the Cristo Rei Statue, make sure you take in the views of the Ponte 25 de Abril. This suspension bridge is very similar to the Golden Gate Bridge in San Francisco, but can't be accessed by foot. However, Pilar 7 is a fun experience in Lisbon where you can ride a lift to the road level of the bridge and stand on a glass floor, which is a unique alternative. We didn't have time in our schedule to try it out, but it's a very popular tourist attraction in Lisbon, and isn't too far from the LX Factory either. Whatever angle you view the bridge from, you're sure to get some great photos.
Canned Sardines
Canned sardine shop
One thing you'll notice about Lisbon is that there are a lot of canned sardine shops. These aren't your typical, tasteless sardines in a can though. Sardines have helped to feed the people of Lisbon for centuries, and are such an important part of their culture that they host a month-long festival just to celebrate them. Freshly grilled sardines can be found all over the city, but surprisingly canned sardines are just as popular. You can find these in normal grocery stores, but you can get distinct flavours of sardines in vintage cans that make for great souvenirs too (look out for speciality shops). Grabbing some canned sardines in Lisbon is definitely a very unique thing to do in Portugal.
Village Underground Lisboa
Village Underground Lisboa
Like the LX Factory, Village Underground Lisboa is a centre for creativity. They often host music and other events on their site, but during the daytime you can enjoy exploring the unique village which is centred around repurposed double-decker buses and shipping containers. If you're heading to Pilar 7, this is on the way and is worth stopping at, if only to take a few photos. It's certainly one of the more unusual things to do in Lisbon, and flies under the radar with tourists.
Go Tile Hunting
Tiles in Lisbon
It goes without saying that Lisbon has some of the most beautiful architecture in all of Europe to admire. And as you make your way through its historical streets, you'll notice that many of the buildings are decorated in stunning tiles of all colours and patterns. You can take a piece of Lisbon home with you, since there are a lot of artisan tile shops dotted around the city. I would recommend doing some research beforehand so you walk away with authentic tiles and not mass produced ones. Some of the best shopping in Portugal is in Lisbon, and tiles make up a big part of that. Plus, tile hunting is a really fun thing to do in Lisbon as well, so don't miss out!
Cool Places To Eat in Lisbon
Scoop 'n Dough
Lisbon is home to a great variety of vegan restaurants and cafes, many of which can be found in the city centre. If you're having a bit of a sweet tooth craving though there's no better place to go than the award winning Scoop 'n Dough. They're home to the world's best vegan donuts, and rank within the top 10 of the best vegan spots in the world - that's pretty impressive! All of their donuts and ice creams are handmade in small batches to ensure the quality of their products isn't compromised. They're also very selective with their ingredients, so expect some unique seasonal flavours when you visit! The ice cream is incredibly creamy despite it being made without milk or eggs, so order a few flavours to try. Scoop 'n Dough is the perfect vegan spot in Lisbon to hit up if you're exploring the city centre.
Las Ficheras
The food in Lisbon is amazing. You won't have any problems trying to find somewhere to eat, regardless of what part of the city you're in. For the best Mexican food in Lisbon though, head over to Las Ficheras, which is around the corner from the pink street. Here is where you'll find a great selection of traditional Mexican dishes that you're probably accustomed to, with a few unique recipes added to the menu as well. We started things off with a strawberry margarita and chilli nachos, then went for the chicken fajitas and a burrito. Make sure you leave some room for dessert, because the lime cheesecake is delicious. While you're waiting for your food to arrive, take in the unique décor of the restaurant, because there are a lot of interesting Mexican-themed decorations to take in. Las Ficheras is a hidden gem for food in Lisbon, and it's near many key attractions as well.
OKAH Restaurant & Rooftop
Rooftop restaurants in Lisbon are very popular. Depending on which one you choose, you'll either have great views of the city or of the Tagus River and suspension bridge. If you're planning on visiting Belém on the tram, a great spot for lunch along the way is OKAH. They boast a unique blend of Portuguese and Japanese cuisine, with a rooftop terrace overlooking the river. We visited OKAH for lunch, so they have a slightly different menu than what's offered at dinner, but it's still a good selection. If you like seafood, there are some great options such as the salmon tacos or the sushi plates. But if you prefer something a little less fish-based, then I would recommend the vegetable dumplings and the vegetarian poke bowl. For dessert you can't go wrong with the Special OKAH. Since OKAH sits between the city centre and Belém, you probably won't find a lot of tourists here, which helps make OKAH such a unique place to eat in Lisbon.
Neighbourhood Cafe
Wondering where the best brunch spot in Lisbon is? Visit Neighbourhood Cafe to find out. Located a short walk from Time Out Market Lisboa, Neighbourhood Cafe offers speciality coffees and unique brunch dishes. They're open late too, so you can grab a burger here after 5pm if you prefer. Their breakfast burritos are very popular and filling, so you'll definitely be ready for a day of exploring after eating one. On the lighter side of things, the Turkish Eggs is a tasty option with a bit of a kick. We sat outside and enjoyed watching the yellow trams go past as we ate our breakfast, without too many crowds passing by which was a nice change from other parts of the city centre. It's worth noting that they don't take reservations, so keep your fingers crossed that there's a seat available when you visit!
Where To Stay in Lisbon
Casa C'Alma
Casa C'Alma is the perfect hidden oasis in Lisbon, and it's only a short bus ride or walk from many of the main points of interest in the city. You'll find Casa C'Alma in a very quiet part of Lisbon, and this boutique guesthouse boasts only five rooms so you can be sure of a very quiet and peaceful stay. The entire guesthouse is inspired by Scandinavian design, which is very different from other accommodation that you'll find in Lisbon. We absolutely loved our room as well as the communal space, and really didn't want to leave this retreat.
We stayed in Room #3, which was very spacious and had a beautiful view of the small square across the road. This is one of three rooms that offers a private external bathroom, so we were able to leave our toiletries locked safely away. The modern, simplistic décor of the room matched perfectly with the rest of the guesthouse, and was ideal for relaxing in after a long day in the sun. The room was also spotless and smelled amazing, which helped to add to the tranquility of the space. And the bed couldn't have been more comfortable either.
Casa C'Alma has a few communal areas to take advantage of as well. The spacious living room is great for reading or having a drink, and the dining table can be used for working or planning your itinerary when it's not in use during breakfast. In the morning, you can expect a beautifully presented continental breakfast, all freshly prepared daily. This includes a selection of cereals, fruits, meats, cheeses, breads, hot drinks, and freshly squeezed orange juice. Everything you need to start your day off right is here. It really is the best place to stay in Lisbon if you want a tranquil retreat that isn't too far from the main attractions, but is far enough that you won't be disturbed by all of the noise.
>> Click here for the most up to date prices at Casa C'Alma <<
Having spent 5 days in Lisbon, we left wondering how we had never been before. There are so many unusual things to do in Lisbon, on top of its major tourist attractions, that you could spend more than a week in Lisbon and still not see everything. And for all you foodies out there, Lisbon is the perfect city to tuck in to some traditional Portuguese dishes, but it's also where you'll find modern fusions of food and unique restaurants too. We personally can't wait to return and see what other hidden gems in Lisbon we can uncover.
Have you been to any of these quirky spots in Lisbon before? Let me know about your experience in the comments below. And if you have any other recommendations for what to see in Lisbon, please let me know! Don't forget to follow my travels on Instagram as well to see where I end up.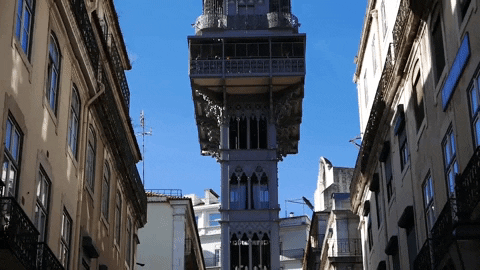 Like this post? Why not pin it for later?