Krista the Explorer
What To See in Baixa, Lisbon For First Time Visitors
Updated: Jul 17, 2022
This post may contain affiliate links, which means I may earn a commission from the discount codes used or when a link/ad is clicked. All purchases made will come at no extra cost to you, and I only include products and services that I have personally used and would recommend.
Any first time visitor to Lisbon needs to take at least a day exploring the streets of the Baixa district. Baixa is the very centre of Lisbon, and sits nestled between the oldest district in Lisbon, Alfama, and the very popular Bairro Alto. Not only is this area full of unique attractions in Lisbon to discover, it's also home to some of the best shopping streets in Lisbon too. It's one of the major tourist areas of the Portuguese capital, so you should expect very crowded streets at any point in the year.
Baixa, in all its current glory, has a devastating history though. The 1755 earthquake that hit Lisbon completely destroyed Baixa. The neoclassical buildings you see today, along with the impressive grid system of the streets, make it one of the finest architectural achievements in Europe of that time period. Baixa is one of the best areas in Lisbon to visit on foot too, as much of it is pedestrianized and the main attractions in Baixa are within walking distance of one another. From old trams to vintage shops, quaint restaurants, and unique museums, Baixa is a must-see in Lisbon. Here are some tips on what to see in Baixa for first time visitors, as well as where to eat in Baixa and where to stay.
Table of Contents
What To See in Baixa
Praça do Comércio & Arco da Rua Augusta
Praça do Comércio
One of the highlights of Lisbon's historic centre is Praça do Comércio. It's one of the most beautiful squares in Europe, and before planes became popular this square was where visitors would disembark from their sea voyages. It was once the home of the Royal Palace, but following the 1755 earthquake, when everything was rebuilt, it grew to represent a new era, where trade and the bourgeois class were favoured. The statue in the centre of the square shows José I on horseback, and is a prominent feature.
Visiting this square is one of the best things to do in Lisbon, and it's also home to the famous Arco da Rua Augusta, which wasn't completed until the late 19th century. Throughout the arch you can see important historical Portuguese figures carved into it, and if you have time you can climb to the top and get some pretty impressive views of the Baixa district below. Praça do Comércio is the perfect place to start exploring Lisbon's city centre from.
Cais das Colunas
Cais das Colunas
Before leaving Praça do Comércio, don't forget to head towards the waterfront and visit the Cais das Colunas. The marble steps leading up to the columns once welcomed heads of state to Lisbon, such as Queen Elizabeth II. The columns were built following the earthquake, and are meant to be replicas of those found in Soloman's temple - presenting wisdom and devotion. It's one of the most popular things to see in Baixa, and is a great attraction to add to your list of free things to do in Lisbon as well.
Santa Justa Lift
Santa Justa Lift
One of the more unusual things to do in Lisbon is to take a ride up the Santa Justa Lift, and take advantage of its viewing platform. The lift was opened at the beginning of the 20th century, and is a very popular way to get between Baixa and Barrio Alto without having to walk up the hill. Its iron structure definitely stands out among the neoclassical buildings of Baixa, and a return ticket (including the viewing platform) costs just over €5, so it's a good attraction to go to if you're visiting Lisbon on a budget. If you only have one day in Lisbon, this should be on your list of things to see in Baixa.
Teatro Nacional D. Maria II & Praça Dom Pedro IV
Teatro Nacional D. Maria II
The Teatro Nacional D. Maria II is one of the most prestigious theatres in Portugal, and sits at the far end of Praça Dom Pedro IV, also known as Rossio Square. It was built in the mid-19th century and sits where the Estaus Palace once stood, which is famous for being the headquarters of the Portuguese Inquisition. If you don't have time to catch a performance, there are guided tours inside the theatre every Monday. It's a beautiful building to look at from the outside too, and Rossio Square is also worth taking a stroll around.
Ginjinha Sem Rival
Ginjinha Sem Rival
If you're wondering what to see in Baixa that some tourists may miss out on, just around the corner from Rossio Square is Ginjinha Sem Rival. This bar famously rivals the nearby A Ginjinha Espinheira, and serves the iconic Ginjinha drink that Lisbon is known for. Ginjinha is a must-try drink in Lisbon, which is essentially a sour cherry liquor that's often served with a cherry inside the glass. The bar is very small, so it's somewhere that you would stop at only for a few moments before heading off.
Praça da Figueira
Praça da Figueira
Another important square that's worth stopping at if it's your first time in Lisbon is Praça da Figueira. It's one of the main squares in Baixa, but prior to the 1755 earthquake this space was used by a hospital, and no square existed. It may not be one of the top things to see in Baixa, but it's home to a number of restaurants and cafes that are slightly less touristy than other parts of the district. Most tourists will probably pass by Praça da Figueira as they head to other attractions in Lisbon, or use it solely to catch a bus from. In the evening this square is a hot spot for people trying to sell drugs to passersby, but all you have to do is ignore them or say "no thank you" and they will leave you alone. Don't let this deter you from visiting during the day.
Where To Eat in Baixa
Café do Rio
As you can imagine, there's no end in sight when it comes to restaurants in Baixa. That being said, a lot of them are overpriced and very touristy, which is what you should avoid if you want to have a good dining experience in Lisbon. Café do Rio is the perfect option for lunch or dinner, as it's situated very close to Praça do Comércio. They specialize in unique craft burgers which are served without the bun, in an inviting and chilled atmosphere. But don't worry, they more than make up for the lack of a bun with the double burger patties and toppings. They have a wide variety of burgers on the menu, including a good selection of vegetarian burgers too. Compared to a lot of restaurants in Baixa, the prices here are very reasonable, and they offer some of the best burgers in Lisbon, so don't miss out!
In.Vulgar
In.Vulgar is the best restaurant in Baixa if you want more of a fine dining experience, and is located around the corner from Praça da Figueira. It's a sophisticated restaurant serving a unique blend of Portuguese and world cuisine. There are two tasting menus available, but we decided to order a few courses from the main menu. What's unique about this restaurant in Lisbon is that the menu changes regularly, and the chef implements seasonal items into their dishes, which are all freshly procured. The people of Lisbon love their seafood, so you can expect a wide selection of seafood dishes on the menu. But there are equally tasty meat and vegan options too. Whatever you decide to order at In.Vulgar will be presented beautifully, and taste great too, so you won't be disappointed.
Mercado da Figueira
Mercado da Figueira
We came across Mercado da Figueira by chance, as we were making our way through Praça da Figueira. It's a bit of a hidden gem in Lisbon, as the sign outside can easily be missed by tourists. Inside is a small grocery store as well a cafe where you can get everything from fresh orange juice to sandwiches. We noticed a lot of locals eating here or taking things to go, and the prices were very cheap compared to other cafes in the area. I would highly recommend this if you want something quick to eat or drink.
Where To Stay in Baixa
The Visionaire Apartments
Places to stay in Lisbon's city centre don't come much better than The Visionaire Apartments, located in Praça da Figueira. The apartments are located in what was once a 16th century merchant's house, and they're designed to reflect the age of exploration. Throughout the apartments, as well as the common spaces, you'll find a mixture of Portuguese, African and oriental influences that all tie in to one of the most important parts of Portuguese history. If this isn't a unique place to stay in Lisbon, then I don't know what is. It's a haven for history lovers.
We stayed in a 1 bedroom apartment with city and castle views, which included a large living room with a balcony overlooking the square. There was also a kitchen and dining table, a very spacious bathroom with a walk-in shower, and a beautifully designed modern bedroom. The decor of the apartment perfectly matched the common area, oozing history and a blend of cultures. What I personally loved about this rental apartment in Lisbon was the mini history lessons that were printed on the walls, designed so that visitors can learn more about the inspiration behind The Visionaire Apartments and get more of an appreciation for Lisbon before heading out to explore the city.
As much as I loved our apartment, the highlight for me was the common area. It really felt like you had been transported back in time and were in the home of a merchant. The tapestries, books, artwork, and extra decorations such as the spice bowls and globes all worked together to create an incredible atmosphere. Plus, there is a giant rhino in the corner, which has an interesting history behind it, but I'll let you read more when you get here! The Visionaire Apartments has a contactless check-in system in place, so at the beginning of the day you'll receive a code by email that grants you entry to the main building and your apartment. If you love history, culture, and unique places to stay, then you'll love staying at The Visionaire Apartments in the heart of Lisbon.
>> Click here for the most up to date prices at The Visionaire Apartments <<
The Baixa district of Lisbon is just one of many important areas of the city to explore. If this is your first time visiting Lisbon, or if you didn't have time to walk around the streets of Baixa on your last trip to the Portuguese capital, then you're in for a treat. Hopefully my short list focusing on what to see in Baixa will help you put the finishing touches on your itinerary. There are plenty more things to see in Baixa that aren't in this post, but these are the highlights that you really shouldn't miss out on.
Have you wandered around Baixa before? Let me know what other points of interest in Baixa I should visit on my next trip to Lisbon - because I know we missed quite a few! Also, feel free to check out my blog post about Belém if you're planning on visiting this district. And as always, don't forget to follow my travels on Instagram too.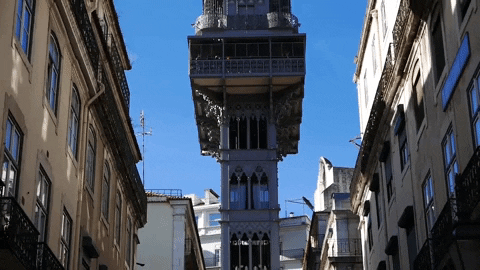 Like this post? Why not pin it for later?