Krista the Explorer
DRiiBE CITYC Urban Backpack Review: Best Backpack For Digital Nomads
Updated: Jul 31
This post may contain affiliate links, which means I may earn a commission from the discount codes used or when a link/ad is clicked. All purchases made will come at no extra cost to you, and I only include products and services that I have personally used and would recommend.
It goes without saying that every traveller needs a good backpack to take with them. Not all backpacks are suitable for every type of trip though, so it's important to find one that's right for you and suits all of your travelling needs. When you're on a business trip or exploring a new city, the last thing you need is a backpack that's either too big or isn't able to hold all of your essentials in a convenient and organized way. That's why I always have my DRiiBE CITYC 2-in-1 travel backpack on hand.
DRiiBE is one of the best sustainable travel brands. Their "+ in 1" philosophy means that all of their products, including their shirts and travel pants, are multifunctional. The idea behind this is that if a product is able to do more than one thing, then it decreases the need to continuously buy more. They also prefer to use recycled or renewable materials in all of their products, to keep the supply chain short. I use their city backpack regularly, and can't get enough of it.
DRiiBE CITYC Backpack Review
When choosing what backpack to travel with, the first things I look for are if the backpack can hold my laptop and camera gear, and how many compartments it has to store all of my other accessories. The CITYC backpack is highly multifunctional, and is one of the best backpacks for digital nomads, so let's take a look at its key features.
DRiiBE CITYC Backpack
Elegant Packaging
From the moment the CITYC backpack arrives in the mail, it makes a bold statement. After taking it out of the sealed packaging, the backpack is presented in a beautiful branded golden bag that's ideal for keeping dust and dirt from the backpack while in storage. It can also be used as a packing back when the backpack is in use as the drawstrings keep items from spilling out.
Expansion and Large Capacity
One feature that the CITYC has that many other urban backpacks don't is the expandable bottom. I can't tell you how many times I've gone out with what I think is enough room in my backpack, only to buy something later in the day and have no space left in my bag. That's why I love this feature so much. Whenever extra space is needed, you simply unzip the bottom and an extra 25% of space appears. This is one of the many reasons why I find it to be the best digital nomad backpack - extra space at your fingertips.
CITYC backpack with expandable bottom
Strap Pockets
One of the first things you look for in a backpack is comfort and practicality. The padded straps of the CITYC backpack make it very comfortable to have on your back all day. I've been to countless white villages in southern Spain wearing this backpack in the heat, and have had no discomfort with it whatsoever. The straps also come with a set of handy pockets on each side, so you can have your sunglasses or a metro card easily accessible without the fear of losing them.
Strap pockets on CITYC backpack
Slim Design and Laptop Compartment
If you're planning a city trip or are looking for an urban commuter backpack, you probably don't want it to be bulky. DRiiBE's CITYC backpack's slim design doesn't take away from its large capacity, so you can be sure that all of your essentials will easily fit inside. There's a separate 15.6" laptop compartment that helps to keep it safe from other items that have been packed in the main compartment too, so you can travel safely and worry-free.
Laptop compartment
Jacket Holder
If you're not convinced that this is the best backpack for city travel yet, then maybe this unique jacket holder will help to sway you. The front of the backpack has two zips on either side, so when both are pulled down this compartment turns into a jacket holder. It's strong enough to hold a yoga mat too. I use this feature very frequently so I don't have to carry my jacket around all day with me, and it's something that I think all travel backpacks should have.
Jacket holder
Internal Pockets
The CITYC 2-in-1 backpack has plenty of unique features on the outside, but let's not forget to check out what's going on in the main compartment. This minimalist commuter backpack comes with two large pockets in the interior, which help to keep wallets and keys safe from pickpockets. They're also useful for keeping smaller items separate from the other contents of the bag.
CITYC internal pockets
Anti-Theft Pocket and Luggage Strap
The anti-theft pocket can be found on the rear of the backpack, hidden from view when the backpack is being worn. If you're worried about your passport or other important items being stolen when you're in large crowds, this is the perfect place to put them. Just above the anti-theft pocket is a luggage strap as well, which is handy if you're travelling with a carry-on suitcase as you can easily balance the backpack on top without worrying about it falling off.
Anti-theft pocket
External Elasticated Pockets
External pockets are great, unless the size isn't right. DRiiBE have added two external elasticated pockets to their CITYC backpack, which can actually hold a lot more than you'd think. I tend to use one for my reusable water bottle, and the other for a mini tripod or other small camera accessory that I need access to regularly. The pockets are very secure thanks to the elastic, and can hold both big and small items securely.
External side pockets
Machine Washable
And last but not least, you're probably wondering how to clean this amazing digital nomad travel backpack. It's completely machine washable, and can even be combined with other laundry without it being ruined. So no matter how dirty it becomes while you're travelling, you can always return it to its original glory. And when you're done, simply pop it back into the golden storage bag and keep it in a safe place for later.
Final Thoughts
The DRiiBE CITYC 2-in-1 backpack is one of the best organized backpacks out there. It's perfect for business people, remote workers, and travellers of all kinds. While it may not be the best option to take on a hiking trip, its unique features such as the expandable bottom, jacket holder, and external pockets make it an ideal backpack for digital nomads or city adventurers. DRiiBE is one of my favourite urban backpack brands, and I've taken their CITYC backpack all over Spain with me without any complaints. If you're in the market for a new backpack and daypack combo, or want to upgrade to a more convenient way to travel and commute, DRiiBE have got your needs covered.
DRiiBE CITYC 2-in-1 backpack
Price for the CITYC 2-in-1 Travel Backpack: $212.00 CAD
I hope this DRiiBE CITYC 2-in-1 backpack review helps you in your decision making process, and if you have any questions or concerns about the backpack, please feel free to get in touch in the comment section below or send me an email - I'd be happy to help! You can also follow my travels on Instagram and see where my CITYC backpack ends up next.
If you're looking for more travel products, you may find something you like in my gifts for people who love to travel or my sustainable travel products gift guides!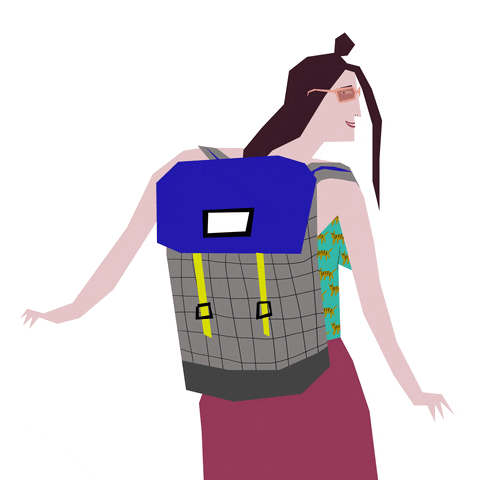 Like this post? Why not pin it for later?