Krista the Explorer
5 Reasons To Visit Switzerland
This post may contain affiliate links, which means I may earn a commission from the discount codes used or when a link/ad is clicked. All purchases made will come at no extra cost to you, and I only include products and services that I have personally used and would recommend.
I'm sure Switzerland is high on your bucket list if you haven't visited it before. Even if you have, you're no doubt itching to get back to one of Europe's most beautiful countries and explore new areas of it. There are many fantastic historical attractions and cities to visit in Switzerland. But if you're more of an outdoorsy type of person, you certainly won't have far to travel to be met with breathtaking mountain views and glistening lakes. It's one country in Europe that has something for every type of traveller.
The best time to visit Switzerland really depends on your weather preference, so for our upcoming trip to Switzerland with Elite Encounters & Adventures (more details below) we've chosen to visit mid-August so that we can explore its cities and enjoy its beautiful landscapes in a comfortable climate. This will be our first time visiting Switzerland so we're very excited to see what the country has to offer. Here are our top 5 reasons to visit Switzerland this summer:
1. Food in Switzerland
Fondue
Raclette, fondue, Swiss chocolate, rösti. My mouth is watering just thinking about all of it! One of our big reasons to visit Switzerland is for the food. We've been to a couple of countries that border Switzerland, like Germany and Austria, so we know what to expect with some of the dishes. But there is so much more to try! There's nothing better than sampling traditional food in different countries, and Switzerland is famous for quite a lot of things. Our Switzerland tour package with Elite Encounters & Adventures includes breakfast every morning and two dinners, so we'll definitely be doing some research beforehand so we can find the best places to eat outside of what's already included.
2. Historic Cities in Switzerland
Bern
Even if you prefer to be out in nature, you can't visit Switzerland without visiting at least one of its beautiful historic cities. Zurich and Bern are two big reasons to visit Switzerland, so we had to make sure we could spend one day in each city during our tour. Zurich is known for being the industrial and commercial centre of the country whereas Bern is the ancient capital of Switzerland and still retains much of its old-world charm. Having been to neither cities before, we're excited to explore their streets.
3. Swiss Train Journeys
Train journey in Switzerland
After watching countless documentaries about people going on luxury train tours in Switzerland, I knew I had to go on at least one during my first visit to the country. Our Switzerland travel package with Elite Encounters & Adventures includes first class train journeys to the various destinations along our route. The most exciting addition to our itinerary has to be the Chocolate Train that runs between Montreux and the Cailler-Nestlé chocolate factory at Broc (chocolate factory tickets included). If this train journey alone isn't the perfect reason to visit Switzerland then I don't know what is.
4. Swiss Mountains
Mountains in Switzerland
For many people, the first thing that comes to mind when they think of Switzerland are the mountains. So if you're not into skiing, what could be better than sitting in the warmth of a train as you pass by some of the tallest and most beautiful mountains in Europe? If you visit in the warmer months like we will be, a trip to Kandersteg to visit the nearby lakes and hit up some of the many hiking trails in the mountains comes highly recommended. This is yet another reason to visit Switzerland!
5. The Lakes in Switzerland
Lake Oeschinen
Mountains and lakes are fairly synonymous in Switzerland, and during the warmer months you can take full advantage of the crystal waters and go for a swim to cool down. While many people head to Lake Geneva or Lake Lucerne, Lake Oeschinen is considered by many to be the most beautiful mountain lake in the Alps. It's also a UNESCO World Heritage Site, so a trip here is the perfect blend of history and nature. Luckily, Lake Oeschinen is on our Switzerland itinerary!
If you're thinking of planning a trip to Switzerland in the summer of 2022, we'd love to have you join our group trip with Elite Encounters & Adventures. It's running from August 13th - 20th and is open for up to 20 guests, starting and ending in Zurich. We've designed a trip that's the perfect mixture of historical places and beautiful spots in nature to enjoy, with some fun excursions such as the Chocolate Train added as well.
>> Click here to view the full Switzerland itinerary and cost of the trip. <<
There are, of course, many more reasons to visit Switzerland, which I'm sure I'll come to realize once I visit the country itself. If you have any tips on things to do while we're in Switzerland or food to try, please let me know in the comment section below. And remember to follow my adventures on Instagram as well and stay connected!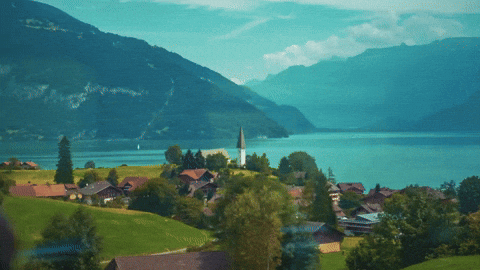 Like this post? Why not pin it for later?