Krista the Explorer
9 Things To Do in Moclinejo, Málaga
Updated: Aug 22, 2021
This post may contain affiliate links, which means I may earn a commission from the discount codes used or when a link/ad is clicked. All purchases made will come at no extra cost to you, and I only include products and services that I have personally used and would recommend.
Moclinejo is not your typical inland white village in Málaga that you see advertised everywhere, nor is it likely to be part of a coach tour taking you on a day trip from Málaga. It is, however, a beautiful hillside Spanish village that is very easily accessible by car and worth adding to your southern Spain itinerary. It will only take you a couple of hours to visit, but there are some very interesting things to do in Moclinejo and plenty of spots for photo opportunities as well. If you happen to be visiting the Axarquía region of Málaga during September, Moclinejo hosts its annual Fiesta de Viñeros which pays tribute to the village's roots as well as the people who tend to their vineyards. Apart from this festival in Moclinejo, the village is also one of several in the area that forms part of the Ruta de la Pasa - a tourist driving route in Málaga that focuses on villages which produce the province's most sought after raisins.
Though often overlooked by tourists, Moclinejo is probably one of the prettiest white villages in Málaga to visit. The village has deep Moorish routes, which is evident as you walk through its winding streets and pass by all of its whitewashed houses. During the 15th century Moclinejo was actually the scene of a very important battle between the Moors and the Christians during the period of reconquest in southern Spain. Overall, it's a beautiful whitewashed village in Málaga to walk around - just make sure you bring comfortable shoes because its narrow streets can also get extremely steep! Here are my recommendations for the top things to do in Moclinejo during a short stop in the village:
1. Admire the village from afar
View of Moclinejo
As you make your way from Málaga to Moclinejo, passing through the hilly landscape lined with olive groves, you'll notice a series of benches lined up at a viewpoint just before you make the final turn into the white village. After you park up, I would recommend taking an extra few minutes to walk back to the viewpoint because the view of Moclinejo from there is unbeatable. The weather in Moclinejo was not cooperating with me when I visited, but I thought the view was still pretty amazing to look at which is why I would suggest adding it to your list of things to do in Moclinejo - especially if you have a clear and sunny day!
2. Take a photo of the entrance arch and tower
Entrance arch and tower
Directly next to the viewpoint is Moclinejo's entrance arch and tower, which if you pass under by car is where you'll find quite a few places to park along the side of the road (for free). This is probably one of my favourite attractions in Moclinejo, simply because the way it was designed makes it look like a castle, and by now I think everyone knows how much I love castles! Sadly there aren't any castles in Moclinejo, so this will have to do. Since there isn't much traffic here, you should be able to stand in the middle of the road and snap a nicely framed photo with the whitewashed buildings of Moclinejo in the background.
3. Stop at Iglesia de Nuestra Señora de Gracia
Iglesia de Nuestra Señora de Gracia
There aren't too many things to see in Moclinejo in terms of points of interest, but one building that you absolutely need to take a look at is Iglesia de Nuestra Señora de Gracia. It was unfortunately closed when I visited, but this whitewashed church adds to the charm of this small white village in Málaga and is worth a quick look at. The church dates back to the 16th century, but much of what's on show today is from 18th century restoration work. From the front of the church you can see a few Arab-inspired arches adorning its rooftop, and there's also a lovely tiled seating area facing the church entrance.
4. Take a look at the Centro de Estudios de la Pasa de la Axarquía
Centro de Estudios de la Pasa de la Axarquía
The Centro de Estudios de la Pasa de la Axarquía sits next to the Iglesia de Nuestra Señora de Gracia, and is where you can learn more about the raisins and wines that are made in this region. The exhibition shows the history of the production processes through objects and photographs, and really goes into detail about the tradition of grape picking in Moclinejo. I came across this centre while researching things to do in Moclinejo, but it was yet another attraction that was closed when I visited the village.
5. Walk around Plaza de España
Plaza de España
Wherever you go in Spain, you'll probably come across a Plaza de España, and Moclinejo is no exception. Though not on many people's list of things to do in Moclinejo, this plaza is the centre of the village and is where many of its major calendar events are held. This is also where you'll find a couple of popular restaurants in Moclinejo, which were full of locals as I walked by the plaza (always a good sign). There isn't much to see here, but there is a lovely tiled mosaic on the floor as well as a few other smaller mosaics on the walls nearby.
6. Check out Sala de Exposiciones Antonio Segovía Lobillo
Sala de Exposiciones Antonio Segovía Lobillo
This was another point of interest that wasn't originally on my list of things to do in Moclinejo - in fact I had no idea it was here at all! The Sala de Exposiciones Antonio Segovía Lobillo is a museum of contemporary art which, according to their website, is open daily (I guess I was having really bad luck when I was visiting because it was closed as well). If it's not open when you plan a trip to Moclinejo, it's still worth taking a look at because the tiles that decorate the steps leading up to the entrance are stunning and very detailed. It also sits just behind the plaza so it's very easy to locate.
7. Visit Bodega Antonio Muñoz Cabrera
San Bartolomé
One of the prettiest streets in Moclinejo has to be San Bartolomé. It stretches into the plaza and is where you'll find Sala de Exposiciones Antonio Segovía Lobillo located too. There is also a bit of a hidden gem along this street for those of you who like wine. Bodega Antonio Muñoz Cabrera is a family run winery that opened in 1927, and is a very well-known name in the Axarquía region of Málaga. There is a small wine museum inside the bodega if you're interested in learning more about the production process and their history. Visiting this bodega is definitely a unique thing to do in Moclinejo if you have the time to stop by.
8. Admire the mosaics in Moclinejo
Tiles in Moclinejo
One thing I loved about my day trip to Moclinejo was seeing the amount of beautiful tiled mosaics along the walls of the white village. The artistic concept behind this comes from a desire to recycle rather than dispose of unused tiles, which has created an explosion of colour throughout the village. I had read about the mosaics in Moclinejo before driving along the Ruta de la Pasa, but I had no idea there would be so many! Since you'll see the mosaics as you walk around the whitewashed village, you don't really need to add it to your list of things to do in Moclinejo, but do make sure you stop and look at the detail that's gone into them.
9. Drive the Ruta de la Pasa
Entrance arch
Moclinejo is considered the starting point to the Ruta de la Pasa, and there are a couple of other white villages nearby that would be worth stopping at even if you aren't planning on doing this historic driving route in Málaga. The driving route passes through 7 villages that are key to the production of raisins in the Axarquía region, and it's a pretty spectacular drive through the hillsides and vineyards too. If you have time during your trip to the Province of Málaga, I couldn't recommend driving along the Ruta de la Pasa enough - it'll be well worth your time!
Chances are you probably haven't come across Moclinejo while researching white villages near Málaga and that's understandable - because neither had I. If you want to get away from the Costa del Sol for a bit and head inland from Málaga, this is the perfect area to tour around and Moclinejo is a great example of one of the many unique places near Málaga that you can visit as part of a day trip. There may not be too many things to do in Moclinejo, but it's a charming example of a traditional Andalucían pueblo blanco and shouldn't be overlooked the next time you're in Málaga.
Thinking of driving in southern Spain? If you have any questions or concerns about car rentals or the roads in general, leave me a comment below or send me an email and I will get back to you as soon as I can. And if you know of any other pueblos blancos in Málaga that I should add to my itinerary - let me know! Don't forge to follow my travels on Instagram as well!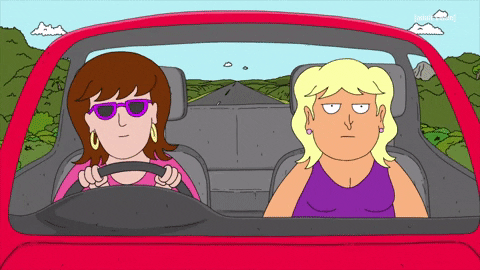 Like this post? Why not pin it for later?