Krista the Explorer
Driiip CBD Review: Why You Should Travel With CBD Drops
This post may contain affiliate links, which means I may earn a commission from the discount codes used or when a link/ad is clicked. All purchases made will come at no extra cost to you, and I only include products and services that I have personally used and would recommend.
Whether you've tried it or not, CBD is growing in popularity across the global stage, and continues to receive glowing reviews from many people who use it. Some may still be hesitant to use it, because CBD is an active ingredient in cannabis, but it doesn't create the high that comes with products containing THC. CBD is known to have many health benefits, some of which can really help you while you're travelling.
I've recently come across Driiip which is an American-based premium CBD brand, who use organic ingredients in their products. They're a small business, so don't expect a wide variety of CBD products in their online shop (yet) but what they do have available you won't be disappointed with. Sadly the Driiip CBD cream was completely sold out, so I've opted to test out the Driiip Premium CBD Drops instead.
Driiip CBD Drops Review
Driiip
Are hemp and CBD the same?
While I was doing some research about CBD oil, the same question kept appearing: Are hemp and CBD the same? Although they come from the same plant, the short answer is no.
Hemp oil is extracted from the hemp seed, and generally has more nutritional benefits than CBD. The CBD oil on the other hand can be extracted from flowers, leaves, and stalks of both the hemp and cannabis plant, and is regularly used to treat conditions such as anxiety or depression, as well as pain relief. Both hemp and CBD contain little to no traces of THC.
Driiip
Benefits of Driiip's CBD drops and important information
Driiip's Premium CBD Drops come in three different flavours (Natural, Mint, or Lemon). It contains 1000mg CBD drops made of non-GMO 99%+ pure CBD and organic MCT oil (derived from coconuts) which is also free from pesticides and harmful solvents.
So, what are the benefits of taking CBD oil? And what makes CBD oil good to travel with? CBD oil is very helpful in easing anxiety, helping with pain relief, improving overall energy levels, and is great for the skin. It's also known to help improve sleep quality which is something everyone needs help with when travelling, especially if you're suffering with jetlag.
Driiip's CBD oil contains 0% THC, and so far has really helped me with my stress levels, which are quite high when I'm travelling. I've also noticed that I'm able to relax easier at night and don't feel as sore in the morning after walking around all day. The small size of the container means that it's very easy to carry with you as well, whether that's in your carry-on or checked-in bag.
Driiip
How often should you take CBD drops?
Driiip suggests that you take one full dropper of their CBD oil 1-2 times a day. They recommend that you wait at least 60 seconds before swallowing in order to feel the full effects of the CBD oil. The oil should last you between 30-60 days depending how often you use it.
Driiip
What other products does Driiip have?
On top of their popular Premium CBD Drops, Driiip offers its customers CBD gummies, dog treats, and pet drops. Their pet drops are popular for dogs who have anxiety so it's worth looking into if you have a pet who falls under this category. Driiip also sold a CBD cream but that's unfortunately fully sold out at the moment - hopefully it comes back soon!
How much do the Driiip CBD Drops cost?
The Driiip Premium CBD Drops retails for $80.00 USD but is currently on sale for $59.95 USD. Keep your eyes peeled for discounts on their other products as well!
Driiip
Final thoughts
The aim of this Driiip CBD review was to see if their CBD oil was a good match for a travelling lifestyle. So far, the answer is a definite yes! Regardless of how much sleep I get I'm always feeling tired or sore from being out all day, but after taking the Driiip CBD oil for around 2 weeks I'm feeling slightly more energetic and I'm able to unwind quicker than usual in the evening. I'm hoping that this continues in the upcoming weeks since I have a busy travel schedule coming up, but all signs are looking positive.
If you've never tried CBD oil before, I'd recommend giving it a go. Since there's no THC in Driiip's CBD oil, you get all of the benefits of the hemp and cannabis plant without getting a high, and with more and more people turning to CBD to help with ailments and conditions, you can rest assured that Driiip have gone to great lengths to ensure that their CBD oil is top quality.
Have you tried CBD oil when travelling before? Or do you have any questions about my Driiip CBD oil review? Let me know in the comments below, and remember to follow my travels on Instagram too for more tips!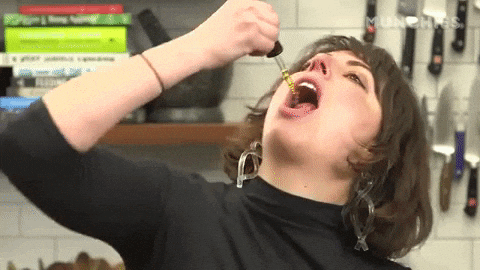 Like this post? Why not pin it for later?